Listen now!
Visit the station page on Live365.com

What is Radio KIRA?

Radio KIRA is an online radio station created by a group of nine independent bands and artists from Atlanta, Georgia. These friends and co-conspirators live on a strange planet where songwriting is king, where Beatlesque melodies and lush harmonies rule, and happiness is a jangling Rickenbacker, a Keith Richards power riff or a Keith Moon drum fill. From roots-rock to psychedelia to delicious power pop ear candy, radio KIRA promises to rock your world. The music of the nine participants is prominently featured, but you'll also hear their favorite influences and indie peers, obscure gems that shoulda been hits, and interviews that range from informative to completely silly.

Perhaps David "Zeus" Henderson best sums up the spirit of Radio KIRA: "The station in question provides a righteous alternation to the pabulum that personifies today's oppressive airwave media conglomerationisms and whatnots. It's most hard for one to quantify the righteousness thusly, but when you hear it, you'll know it and respond accordingly and with great invigorative-ness. It's all about the visceralness of the emotive reaction in the listener's central core and if it's for a good cause it must be all good. Therefore it is."

Why KIRA?

Kira was a very special Siberian Husky who belonged to Atlanta guitarist Lee Flier (What The…?, Orange Hat), and was known as "the talking dog" by Atlanta bands because of her ability to make conversation. "She sounded like a wah-wah pedal," noted local power-popster Kenny Howes. When Kira suddenly became ill and died of kidney failure in November 2003, Flier's musician friends rallied around to organize a special benefit show and CD release on December 12th, 2003.

The benefit was not only a financial success, it was a chance for the bands to play on a bill together and really listen to each other's music. Said Orange Hat frontman Christo Harris, "I forgot how many bands we know that don't suck." At the end of the night, Flier remarked, "We shouldn't wait for something sad to happen before we do this again. We should do this all the time!" Thus, the participants came together to form Radio KIRA. "We've all played together a lot anyway," Flier notes. "We have similar tastes and a lot of respect for each other. So it's nice to officially do something together."

So what are you waiting for? Go start listening now!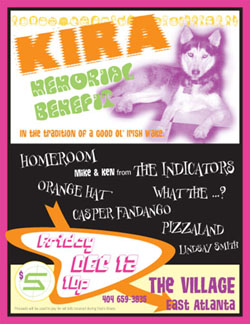 Poster for the benefit show that inspired Radio KIRA
The KIRA CD Compilation

Less than 100 of these special CD's were made for the Kira benefit, but you can still buy 'em till they run out. The CD features a cut from most of the bands you'll hear on Radio KIRA - a plethora of great power pop most of which is not available anywhere else. Proceeds from CD sales will benefit Atlanta Siberian Husky Rescue. Buy it online at http://www.what-the.com or if you're in Atlanta, you can find it at Circle Sky Records on Chamblee-Tucker Road, and Wax 'N Facts and Criminal Records in Little Five Points.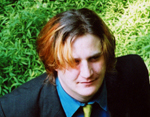 Paul Melançon plays music. Literate, moody, indie-pop music. Whatever the hell that is. He writes depressing songs that sound upbeat, and upbeat songs that sound depressing. He has been graced with an unusually gifted voice and a knack for writing well-crafted pop songs hiding disturbed and defective characters inside. His tools are the bittersweet melody, lyrical depth, and sardonic wit found in fellow artists such as Michael Penn, Neil Finn and Elvis Costello. When whipped into a frenzy, he can shake and pop like a drunk Nick Lowe.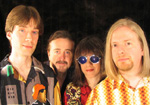 Smart power pop meets the groovy sound of the psychedelic sixties in Atlanta, GA based band Orange Hat. But, the Hat is more than a band - it's an ongoing multimedia circus. In addition to albums full of songs with cool harmonies and catchy hooks, Orange Hat's canon of insanity includes a cable access show with an expanded cast of freaks. Step right this way...
What The...? play rock'n'roll. In case you've forgotten what that's all about (or never knew), maybe you need to give them a listen. Raucous guitars, thundering drums, passionate voices singing in close harmony. Songs of love lost, of innocence found, of not quite fitting in. Steeped in the grand tradition of the 60's and 80's British Invasions, What The...? features "jaw dropping fervor and intensity... witty, crafty songwriting skills... charming, intelligent use of harmony... their musical dexterity and instrumental prowess adds greater listening pleasure..." - Southeast Performer. "Most of the songs are fast and furious, and contain superior melodies that leap out at you." - Modernrock.com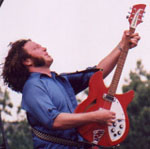 Kenny Howes recently moved to southern California, but the Atlanta pop scene still considers him one of its own. "His band's amalgamation of power chords and melodic chiming glimmers with the inspiration of Pete Townshend and Alex Chilton. There is no more entertaining band in Atlanta. ...Howes digs his old Who and Big Star records and channels that enthusiasm into rousing, unpretentious rock 'n' roll with a pronounced '60s and '70s bounce. Anybody who flaunts mutton-chop sideburns and plays a Rickenbacker deserves your undivided attention." - Atlanta Journal-Constitution
"Listening to Ceiling Fan can be likened to taking a field trip through the punk, hard rock and underground music fringes of the last 20 years. Crunching bass and guitar immediacy a la the Minutemen, the Clash or Cheap Trick run rampant. At the same time so do Beatles-esque harmonies, Motown-style handclaps and an unbounded spirit wound up on an imagined breakfast of instant caffeine and cheap cigarettes." - Flagpole Magazine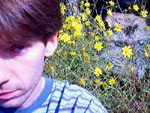 David "Zeus" Henderson has been has been writing and recording twisted pop songs since grade school. Songs about clairvoyant octopi, songs about psychotic ice cream men, songs about insane spaghetti, and more recently, songs about bungee cords, scalp growths, and Jim Croce look alikes. He's been the co-frontman with Orange Hat since 1822, but he's also played with zillions of other Atlanta bands, including Wild West Picture Show, Paul Melançon, Shawn Mullins, Gerard McHugh, and too many drunk rednecks to count. Songwriting influences include Lennon/McCartney, Brian Wilson, James Dickey, and Woody Allen. His newest band Pizzaland is positioned for global domination by the first quarter of 2005.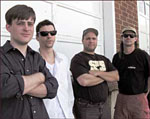 The Indicators have been called a "defiantly loud and literate unit" by Creative Loafing and "a classic garage band: loud, fast, and often boisterous... with a complex arrangement of musical styles, an ear for unique vocal harmony, and an ensemble of meticulous musicians including two sophisticated guitarists" by Evilsponge. Sez Amplifier magazine: "The Indicators teeter magically on the razor's edge that made the 'Mats and second-generation honorees like the Bottle Rockets and Slobberbone so charmingly volatile."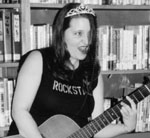 "Atlanta-based singer-songwriter Lindsay Smith may refer to her music as 'alternacheesefolk,' but that label doesn't necessarily do justice to the true artistic merit of her work. Far exceeding mere novelty status, Smith's witty lyrics tackle serious human emotions and her clear voice is anything but cheesy. Add to that a pop-tinged folk sound full of clever hooks, and you've got the recipe for music that's sure to suck you in." - MetroBEAT, Greenville, SC
Charm School's musical roots stem from a childhood immersed in the Beatles and an adolescence set to the sounds of Squeeze and Blondie. "Wistful, winning pop-rock anchored by the reflective songs and lovely vocals (reminiscent of Kirsty MacColl,) of Mary O. Harrison who is not only charming but teaches at a school." - Stomp and Stammer